We really love calling our new game releases "next-gen" and "new-gen", don't we? We flaunt the number of zombies on screen for Dead Rising 3 and the particle effects of inFamous: Second Son. We hear a lot of talk about how "only" this and that "can be done on PS4/Xbox One". We're told over and over that the new generation of consoles is changing the gaming landscape, that we're experiencing brand new games that are changing "what it means to be a game".
Except, I've yet to see that promise come true. In fact, I found the opposite. The most new, fresh, and original AAA games I've played last month were for the Playstation 3 and the original Xbox. They stayed with me a lot more than my brief time with "next-gen" titles, and even their "last-gen" counterparts on my PS3. Those games? Puppeteer and Halo 2. Not exactly titles you'd list together in most categories — one's a sidescrolling platformer, and the others' a first person shooter. However, I've had so much more fun with them than anything else I've been playing. Let me explain.
Puppeteer casts you in the role of a boy whose soul has been claimed by a Moon Bear who has usurped the moon's goddess and taken the Sun Princess captive. The plot's nonsensical attitude is to its benefit though. The entire world is told through a children's puppet show, with levels being shifting sets that "load" before your eyes. As if that wasn't unusual enough, you have lost your head as well, and instead must wear placeholder heads. Your new head could be a cheeseburger, a panda, a guilotine, or even the Sun Princess' head. You get to keep three heads at any given time, and each counts as a life. Lose all three, you're dead. Ignoring the more silly whimsy aspects of the game, this would just make a basic sidescrolling game if that's all there is, but early on in the adventure you get a magical pair of scissors. These scissors become your primary tool for everything from traversal to combat.
Like the Portal Gun before it, the scissors are what make the game truly outstanding. Every boss fight, combat encounter, platforming sequence, and even the aesthetics are influenced by these scissors. Flying giant banner enemies swing their pointed shoulders at you while you cut apart their chest fabric. A tiger tries to crush you, but you clip his nails short. A frog tries to drown you but you cut along hanging goo to keep above water. A castle goes into high alert and you blaze across stitches, dodging and jumping between seams.
All the fourth wall breaking jokes and fantastic art direction in the world can't compare to this focus on the game's unique mechanic.  The scissors you wield are fantastic, and so much more fleshed out than the average gameplay hook. Most games like Inversion or Dark Void would either just fail to focus on their core mechanic (like the former), or have trouble adapting it to a traditional genre (like the latter). Puppeteer fits like a glove by comparison. The system seems so deceptively simple, yet so much mileage is gained just from the idea of cutting fabric.
The game utilizes all its systems and design to try and come up with even greater and crazier experiences, tossing in new mechanics when it needs to, but still letting the scissors do the majority of the talking. It's so unlike anything else I've ever played before, and in many ways, it's what I want from "next-gen" games. It's a game that builds itself around a unique core idea while not going off into some obscure, heavily niche territory of design. It's genuinely different, but still something you can wrap your head around easily.
We need games where the elements and normally very simple things can become extraordinary. I don't mean "you have smoke powers and neon powers, and they behave exactly the same" — I mean actual elements and detail effects. Rain makes a ground slippery and your character loses their footing more often. An enemy gets their arm frozen, and you can break it off. You can burn a wall in your way or make a frozen stairway around it. Exploding small jets of gas can be used for platforming, self-defense, and/or purpulsion.
We don't need a thousand enemies on screen if they're the same as they've always been. A smaller, more personal encounter with more variety will always trump bigger scale. Arkham Asylum still keeps me and many others entertained despite having, at most, twenty enemies in a room at most. By comparison, the climax section in Heavenly Sword with hundreds of enemies is nothing but a laggy, frustratingly tedious task. This didn't stop being a thing when the PS4 and Xbox One released, and developers need to recognize it.
There's some hints of this, like with Lionhead's Fable Legends showing elemental effects potentially being a factor; even if only to a limited, D&D extent. We need something more like Skyrim or Dishonored where you can do things like freeze a floor to make it slippery, or use a jar of water to move oil under a door, then light the oil and make the fire go into the other room. It requires a very different style of design decisions and a new direction of time investment for studios' programmers, but also opens up a lot more possibilities.
It might not make a huge bullet point on the back of a box, but it's much more significant to the gameplay than everyone expects it to be. We've seen you can destroy a room in Red Faction but can you manipulate thermodynamics to complete puzzles? Can you really bend the elements to your will? There's also much more to be seen with complex AI systems like the Nemesis system in Shadow of Mordor. We need more divergent ideas like these if we're ever really going to stretch the medium and several genres  to their true potential. You can detail to me how frost damage slows an enemy in Shadowrun but what if it actually impacted something like the VATS system in Fallout 3? Just imagining the possibilities is staggering.
Halo 2 needs little introduction by comparison. In the epic sequel (and last Halo PC entry) to Halo: Combat Evolved, Bungie attempted to once again drastically shift things up. Weapons were heavily rebalanced, cut, and added. New enemy types were thrown in. It took the rare (at it's time) approach of removing your health bar, letting health regenerate automatically after a few seconds of delay to recharge your shield. A new protagonist was added, with a distinctive power and unique perspective. The story had politics and intrigue we'd previously been unaware of.  They even rebuilt the multiplayer practically from the ground up, jump starting the online multiplayer scene for consoles.
Yet you know what really sticks with me? It's that at no point other than its ending, does the game feel like it made any compromises. Much unlike Bungie's most recent project Destiny (yes, you knew that comparison was coming), there's this genuine integrity to an idea. It genuinely holds up like a statue, withstanding the weathering of time. It doesn't bend to what someone else wants, merely to what its creators wanted. Unlike so many other shooters and action games I've played recently, Halo 2 just simply refuses to do something "just because". Every moment and every beat feels deliberate.
The dual-wielding system fits right in with the new beefier enemies. The BR and SMG split the assault rifle's primary uses across two guns, while both still working as solid middleground weapons. The Brutes and insect enemies feel like an evolution of the threat an Elite could present, while the plot itself addressed this and gave the Elites an out so as to let the new foes stand tall. There's still a gradual shift though, masterfully changing who you aim for with ease across the campaign. Even the exposition is so clean and clear that despite many new plot threads and ideas, I've found even non-gaming friends can follow and enjoy the story.
The game doesn't make all these changes to streamline anything, to make it more basic or dilluted. There's certainly an effort to be a fun game, an appealing game, but it does not make any effort to change what Halo is. Destiny tries so hard to appeal to everyone, that it appeals to no one. It tries to promise everything, and barely gives you anything. Halo 2 offers you more Halo, and that's all it intends to do. That is such a refreshing change of pace in this day and age. Just look at it's exact opposite in Sony's own sci-fi shooter series Killzone.
Killzone was first a slow paced yet flexible and ambitious shooter that tried to introduce an entire universe and conflict that would really take five or so games explain, further compounded by bugs and numerous AI glitches. Then the most immediate follow-ups were more or less tech demos. Killzone: Liberation was a messy PSP single-stick shooter. Killzone 2 abandoned nearly everything that made the IP original while trying desperately to "innovate" through gimmicks and meet a checklist. It wasn't until Killzone 3 that the series got what felt like an actual sequel to the original game.
Despite being vastly shorter in the campaign department, it's the only entry in the series that directly takes notes from both the setting and gameplay of the original. Then Killzone: Shadow Fall rolled out earlier this year and once again runs in a completely different direction. The gameplay wasn't even significant in most of the pre-release demonstrations. No instead we got vaguely branching level design, gimmicks that the game could throw away at the drop of a hat and it wouldn't change anything, and high fidelity graphics. Those were what mattered, not that the core game retained its own focus.
There are other games in a similar vein. Uncharted 4: A Thief's End, The Order: 1886, Quantum Break, Battlefield: Hardline, and more just keep rolling out, touting scripted sequences and brief moments of gameplay. At best, they might show a single demo level that would be considered large during the PS2 era, but pretend this is grand scale for us now. It doesn't even matter apparently if these games genuinely undersell their core ideas and are just pretty. That can still merit them getting a 7/10, or even higher, even though all they are there to do is to sell a system and wow the average buyer, not be a game.
It's not even on the "it's an experience" style of play in something like Call of Duty 4: Modern Warfare. These are purely scripts that you have to act out, to the letter, or fail at and be forced to start again. They serve a wide audience, they look great for demo reels, and they keep casual audiences entertained just long enough that they don't stop and really think about what just happened. They are rarely substantial experiences, and often are the sort of game that ages horribly once the new generation of tech rolls out (as is already the case for several Xbox 360 and PS3 games).
Why yes, that train sequence in Uncharted 2 was quite spectacular looking — but wasn't it basically just a more jittery version of the exact same shoot outs you were having in city streets a while ago? Once again, by comparison, Halo 2 actually does try to change things and make them work within its gameplay. It doesn't force the game design to work within whatever new shtick it's trying to sell as "the next great gaming innovation" that's more smoke and mirror's than anything else. The setpieces are not designed before the actual game is. The game comes first, a novel concept.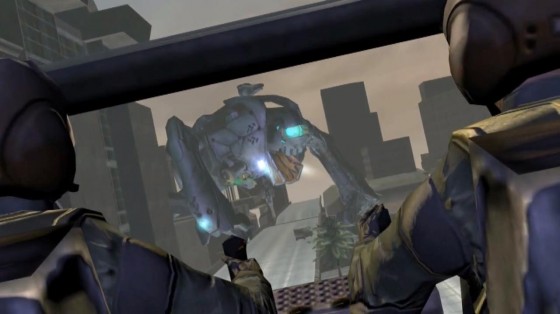 For example — take the raid on the Covenant Scarab battle in the New Mombasa level . You are trying to get in a giant, mobile tank, packed with guards. In theory you could have made it a QTE sequence, or Master Chief could have hit specific "weak point" sections to draw the enemies out in wave upon wave until you clear them out and then just walk inside and press a button. Instead, you are given a vast array of supplies, and even the option to instead harrass your enemies from above before dropping in, and then you just fight your way through the giant mech.
Rocket launcher everyone, risking a potential suicide? Sure, go ahead. Going to snipe them all and then shotgun the pilot? Sounds perfectly sensible. Passive aggressively shoot a plasma pistol at the Elites, drawing them out to stick them with a grenade? Not my cup of tea but if it works, then do it. It's still going to follow a linear path, but how you traverse is purely your decision.
Another example — there's a portion set during the early action of Delta Halo where you face two enemy Wraith tanks. Your allies airlift you a tank to take them. You can 100% ignore it. No cutscene plays where you are forced into the tank. No one insists you get in it. The most Cortana will say if you ignore it is "Really? You're not taking the tank? Okay then." and then you're off.
You can steal a Wraith. You can kill them then go back and grab the tank. You can steal a more mobile Ghost and pound enemy infantry with its rapid fire guns. You can grab a rocket launcher and just blow up any vehicles that attack you. You choose whether or not it's a vehicle sequence, let alone what type of vehicle you're using and how you'll use it. You decide your fate, not a script writer perfecting his or her idea of a modern Indiana Jones or Max Payne by way of The Matrix.
And do you know what? Combining a distinctive, evolving game design with scenarios that favor how you'd like to approach them (within reason) keeps Halo 2 fairly fresh, despite being built for hardware that couldn't even render a single zombie from Dead Rising 3. It never feels too small scale, never feels limited, and just remains a fun game. It's pathetic that we're wasting all the new possibilities we could explore with current-gen technology, and building away from these experiences into further diluted design styles. We, as an industry, are better than that.
There are a few games that still stand up as prime examples of how this works though. Alien Isolation gets it. Saints Row 4, Dead Space 2, Batman: Arkham City, Borderlands 2, and Bioshock 2 all seemed to understand this, even if some of these games mentioned later had sequels that sadly forgot it as well. The only upcoming AAA games that seem to be aiming for this kind of artistic vision and focus are Sunset Overdrive, Batman: Arkham Knight, Witcher 3,  Mad Max, and maybe Halo 5: Guardians. Everything else I keep seeing that isn't indie, seems to just follow this increasingly unsettling trend.
It's like we as an industry forgot what makes games fun. We got so enamored with our ability to hold the player's hand and just show them something cool looking that we forgot that they're supposed to be a participant. I wholeheartedly believe Naughty Dog, Ready at Dawn, and developers like them don't have malice in their hearts or want to manipulate our focus, but I have to question their approach to design just as wholeheartedly. Setpieces are not games, but moments made to reward the player for doing well during a particular section of a game. If you make the reward the main subject matter, then there's nothing left to reward the player with other than pretty visuals that could be outdone by the latest 3D animated film.
If we keep trying to make "next-gen" games without considering what truly needs to evolve, all we'll end up doing is making the exact same games we were playing before, just bigger, shinier, yet somehow more constricted and confined. Despite all the efforts to say that games are opening up and that players are being given more "options", we don't really seem to understand what options are anymore. The very concept of choice and player agency is lost on too many designers.
Being able to kill someone three different ways via a single different button prompt may be interesting for the moment, but just giving players the tools to figure out their own way of doing things is a thousand times more rewarding for them. We saw this work with Dishonored, and the players voiced their favoring of this movement a thousand fold, but all that praise fell on deaf ears with most developers.
Again, to a lesser extent, we saw this with Styx: Master of Shadows. If you failed in Styx, at least for most levels, it was because you simply made a mistake, not because you rejected a specific means of completing an objective. More recent strategy games like Amplitude's Endless series strongly ring true of varied player approaches to victory as well. We need to return that sense of control and agency back to the players. We are not making movies — games are never going to be movies, they are games. So let's let the players play.
I believe we can get to the point where we truly hit "next-gen" and the games start being worthy of that title. Realistically though, that's going to take time, and it will either be hindered or helped by which style of games audiences favor. If they keep pushing for experiences that are divergent and unique, and tire of games like Destiny that offer only a slightly modified flavor of the same instead a of true evolution, then we'll hopefully see a surge of new ideas and compelling IPs. If they don't… well, I guess there's always old but not forgotten games like Puppeteer and Halo 2.