The first level. I dream to see a world beyond this game's first level. Due to apparently having been given the cruel hand of fate's repeated smack, that is still as far as I have gotten in Metrocide. I say this as someone who beat Dark Souls' first boss on his first time playing without dying, on PC, with default PC keyboard and mouse controls controls. This game IS B***** HARD!
As much as I love the Deus Ex-meets-Hitman-meets-Hotline Miami gameplay and cyber punk art direction here, there comes a point when you begin to question if Metrocide was even balanced. Retro inspiration is one thing, but there's a reason most of us recognize that Altered Beast wasn't the best example of how to do a difficulty curve.
What I've played of Metrocide looks beautiful and the sandbox nature of every attempt is great. There are hidden little things to help you, like an empty sniper rifle in a back alley or a particularly vacant street where you can gun down passersby. Unfortunately, it's also this sandbox nature that does you in frequently.
Want anything other than a lame, charge to fire gun? Well you'll have to kill a bunch of people to do it. Have a target you need to take out? Well guess what son — they are in the middle of a crowded street because apparently they are touring the busiest parts of the city.  And if you just go on a rampage killing civilians, the cops kill you. Or the gang bangers kill you. Or the gang bangers kill you just for taking out your gun. Or the cops and gang bangers both race to see who can brutally kill you the fastest. The developers were not kidding when they said the entire city is out to kill you.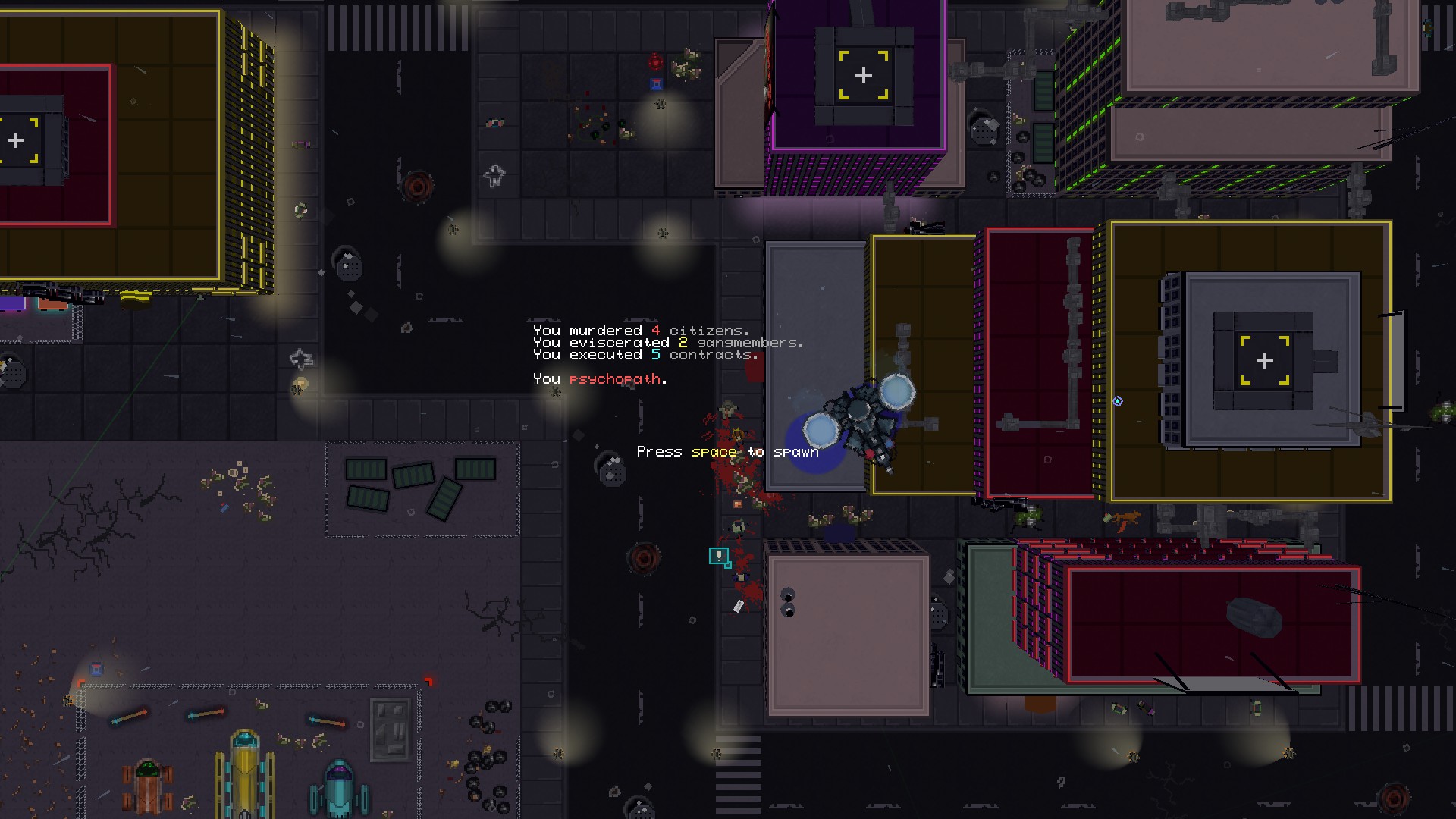 I haven't seen more vigilante gang justice thrown at me since Mafia II's ghetto gangs. You mess with anything, and people will **** you up. Except the only way to make a killing (excuse the pun) in this world is to try and kill people. Why? Well because apparently the protagonist made some very bad choices early on in his/her life and you are more like their morally ambiguous guardian angel on their shoulder who finds newer, even more horrible ways for them to make bad decisions.
What this leads to, is an insulting experiment in futility. Even moreso than Lovely Planet, Metrocide is a game only it's mother and a few other people can truly love. Most people who play it won't get very far in. Those that do will be the envy of the rest of us who still can't get past two contracts before the police, a banger, or cruel fate turns against us yet again.
Other than that, the game is fine, but without being able to play more, I can't really speak for the story or if there are any other later mechanics. The art aesthetics are fantastic, evoking a very mid-eighties sci-fi vibe. The limited use of sound effects and music gives a cold, heavy tone that further carries the harsh atmosphere. Say what you will about just how cruel the game is, at least it knows exactly what it wants to be and excels at that. The question for Metrocide is not if it was well done, but if there's a large enough audience that wants to play it.
---
What does your purchase net you?
 The game is retailing for $12.99 on Steam. If you measure it by dollars per headdesk, it's a better price point than Super Meat Boy.

The Bottom Line
If you ever wanted to pretend you were the Terminator on his last day before retirement, then this is the perfect game for you. Casual players need not apply for this one.
Moment of Artistry
The moment you actually manage to commit a murder, and get away with it, then get killed by a gang banger for leaving your gun out a second too long.
Pros
+ 80's Sci-fi/Cyberpunk Art Direction

+ Flexible Sandbox Levels

+ Solid Polish and Execution

+ You will feel like every other game is on easy mode after this.

Cons
– HARD AS NAILS, to the point of detriment

– Repetition through death after death can get tiresome


Limited Appeal
Curious as to what those letters mean? Click here for our review system.
---
Metrocide was developed by Flat Earth Games and is available on Steam.
This review was conducted with a copy provided by the developers.