User Generation looks at user-generated content and the people who use video games to create something for themselves. The subject for this week in Thiago Vidotto, a character artist and animator who earns his keep making content for Dota 2.
"I don't have a boss to tell me that I have a deadline to follow, so I normally take a lot of time on each item, even if ninety-nine percent of users will not see that small detail," Thiago tells me. "But I'm doing that for me, too. I need to finish it with the feeling that I gave it my best." When you're making your own content for someone else's game, you are your own boss. Whilst this can allow you a lot of creative freedom, it brings with it some challenges of its own.
User-generated content is typically generated by the user from concept to creation—you're not going to have the advantage of someone above you feeding your projects to work on. Of course, the advantage to this is the fact that you can make whatever you like, but it's up to you to come up with an idea that will prove popular on the marketplace, which can be crucial if you're looking to earn some money from your efforts.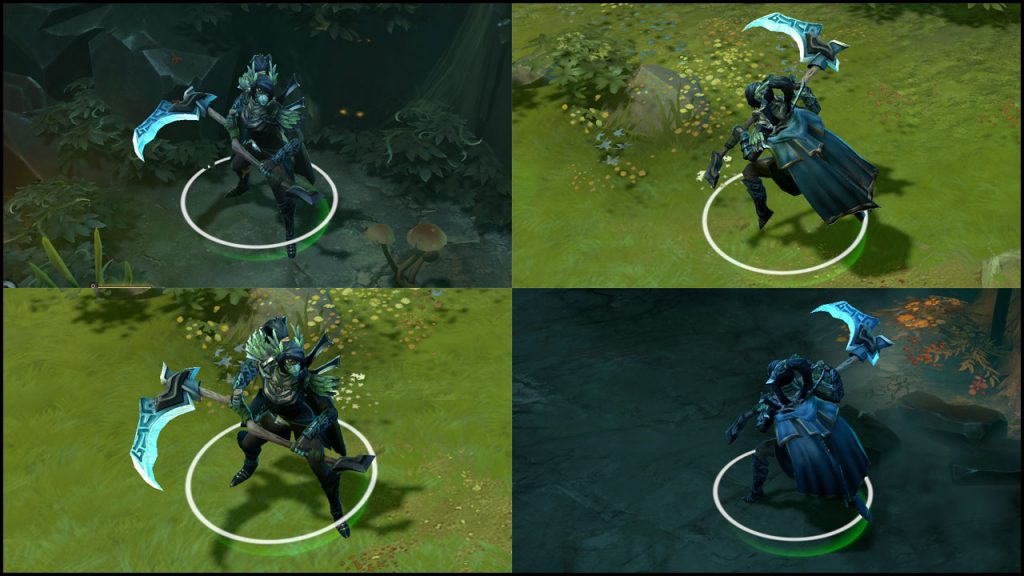 In Dota 2, users can contribute work via Steam Workshop, a repository from which Valve might select individual pieces to go on sale in the official Dota 2 store. Creators take a cut from any profits made whilst on the store, as well as Valve taking their percentage. It's a free-to-play model that seems to work well, offering a degree of self-sufficiency whilst still giving Valve a return on their investment.
The sort of content available, character and weapons mostly, isn't game-altering, just aesthetic. As long as people are playing Dota 2—and it seems they people will for some time—there will be an audience for character customization, and the ecosystem will carry on replenishing itself. However, there is a drawback to this sort of meritocracy: competition can be fierce. "On the workshop, around ninety percent of projects never make into the game," Thiago says. "Quality is always growing and the competition is increasing all the time."
I ask Thiago about how financially rewarding it can be to produce content for Dota 2. "I live on my work on Dota, but it's not easy at all," he replies. "You have a lot of pressure from the community. I need to make each item better and with more bonus things than the other, and sometimes it's really hard to beat your last project." That being said, this sort of work has definite upside, and they're not just financial. Having something that you have created up for purchase on the Dota 2 store is the sort of exposure that money can't buy. "I have received a lot of nice proposals that one or two years ago would be something unimaginable," Thiago tells me. However, whilst you might think that this would be the ultimate goal for a freelance character artist, that's not always the case. "Because of Dota, I refused almost all of them. I had to take some freelance jobs to help pay the bills in the beginning, but I really enjoy working on Dota and I don't want to trade that for stability or more money."
CASE STUDY: Captain Bamboo

"My workflow tends to change a lot – I'm always trying new things, so it's hard to describe it," Thiago tells me when I ask him about what goes into making a new design. It may be hard to describe, but it's not hard to observe, as Thiago regularly uses the popular streaming site Twitch to reach out to his fanbase and let them sneak a peek at his design process.

Whilst Twitch is typically used to stream gameplay—in fact, Dota 2 is one of the most popular games amongst Twitch viewers—Thiago uses the site to broadcast himself working. Everything from editing 3D models in Maya to fine-tuning the skins in Photoshop can be seen on his Twitch channel, offering a great insight into how much work goes into the content that he produces. Thiago often takes time out to chat with viewers, particularly those interested in learning more about the craft. "Sometimes I change my workflow just to teach a new way to the viewers on the stream," he tells me, illustrating one of the reasons that he has amassed more than two thousand followers on Twitch.

Thiago even goes so far as to stream his submission process, in an effort to show his viewers the full process of what it takes to get your content published. Looking at one of Thiago's creations, Captain Bamboo—a panda Courier designed in conjunction with Cesar Sampredo—you can really see the full process from design to download. A video on Twitch shows Thiago's fine attention to detail whilst working on the model, the Steam Workshop page for the courier shows fan reaction totalling more than 800 comments and criticisms, and an entry on the official Dota 2 store shows the finished product in all its glory.
So, working independently, where does Thiago find the inspiration for his work? "Creativity is something that you are constantly working no matter what you are doing," he tells me. "Some of my item ideas I had by reading a book, or visiting my favorite museum here in Paris—the army museum—or even walking on the street. The important thing about creativity is that it will never happen if you don't train it. It's not a matter of sitting in front of a blank paper and starting to think, you need to be thinking about an idea for the entire day, maybe more then that.  Normally your first idea is not good, you need to keep evolving it until you reach a better one."
Speaking to Thiago, it's clear that he has a real passion for working with Dota 2. I ask him about architecture, wondering if it elicits a similar passion. "I had to follow a professional path and so I became an Architect," he tells me. During his time studying architecture, he worked a separate job so that he was able to afford lessons in animation to help him improve the quality of his Dota content. However, it seems like working a job outside of character design wasn't particularly appealing to Thiago.  "Everything worked out great in the end—as I finished the university and my extra courses, I got fired from my job and could focus on Dota," he tells me, with a smile.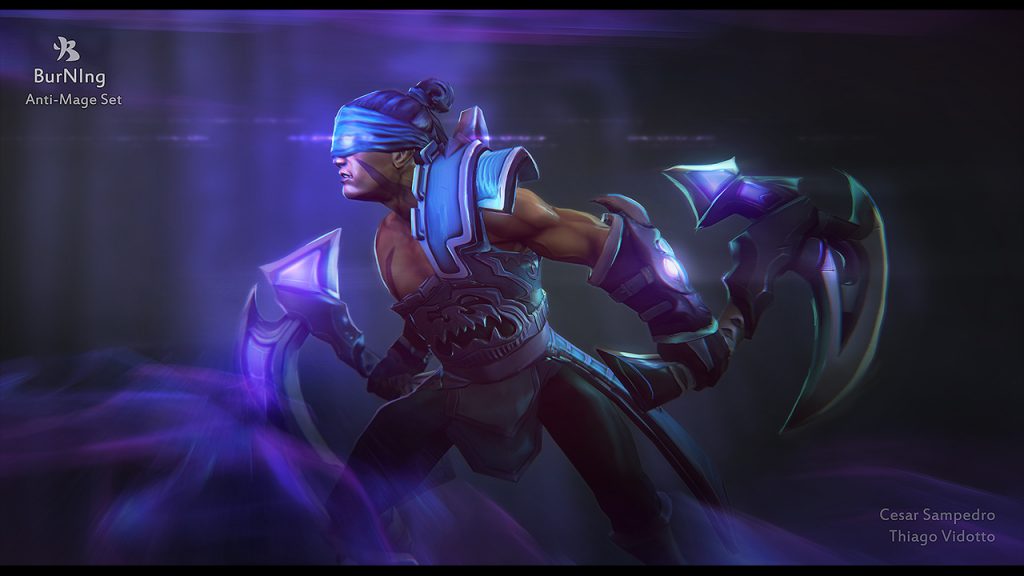 To Thiago, producing content for Dota is certainly a job, but it's a job that he loves and clearly enjoys doing. "I always wanted to work with games," he tells me. "I started customizing my games back in 97 on Quake. I loved that game and started painting new skins on CorelDRAW. That was really fun." The tools may have changed, but the element of fun is still there for Thiago. Now, the best part of two decades later, he is able to customize games to make a living.
However, if Dota 2 is his job, I wonder if playing the game still holds any interest to Thiago. I ask him if he still finds time to play whilst producing content. "Yes, a lot," he replies. "More than I should." Thiago still retains his passion for the game, despite the fact that creating content for it is his job—and perhaps that's why the content that he makes is so good.