A crowdfunding campaign for side-scrolling puzzle platformer The Way is already on track to smashing its funding goal of $15,000 CAD after less than than 48 hours.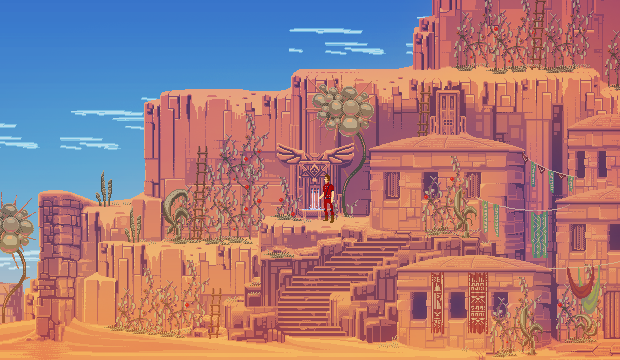 Looking at some of the excellent pixel artwork shown off on the game's Kickstarter page, not to mention the sort of influences that its developers have mentioned, it's not difficult to see why people are already getting excited. Citing well-loved titles like Another World and Flashback as the inspiration for The Way, the Poland-based team at PlayWay promise an alien adventure that offers mind-bending puzzles and an immersive sci-fi storyline, detailed by the developers as follows:
The Way tells a story about a member of space explorers team, who lost his beloved one and cannot accept her death. Finding ancient writings on eternal existence during one of his last expeditions makes him come back there in search of the meaning of life itself.
As of the time of writing, the project has raised $9,319 of the $15,000 set at its funding goal, with 28 days left of the campaign. With the game receiving some well-deserved attention across social media and video game forums, it seems very likely that it will reach its target before the day is out. From there, it will be interesting to see how many of its stretch goals can be accomplished—a $100,000 tier offering ports for Playstation and Xbox consoles perhaps not being too far out of reach.
The Way is intended for release this September, initially on PC with the possibility of iOS, Android and console ports depending on how well the Kickstarter campaign does for the rest of its duration. For more information on the project, and the chance to snag your copy at an early-bird rate, you can visit its Kickstarter campaign page.