Nobody's Safe On Land Or Sea–Developers Barnstorm Games have announced that their video game based on the hugely popular CollegeHumor animated series BearShark is now available in PAL territories, Germany and Australia excepted.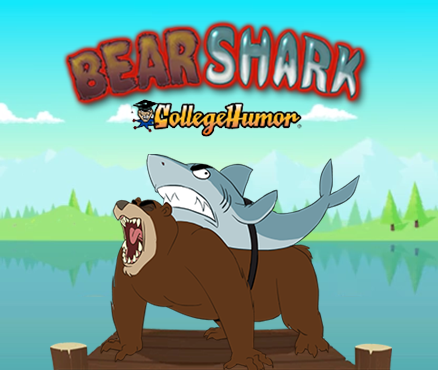 The game is an infinite runner wherein the player takes on the role of 'Steve', who is faced with the task of evading both Bear and Shark for as long as possible. Familiar components of the genre like obstacles to be ducked under or jumped over and collectible power-ups are all present, but the real appeal here is the same sort of irreverent humor that has made the animated series such a hit with audiences.
The combination of Bear and Shark means that neither land or sea is safe—anything can happen. This has been aptly translated to the video game adaptation, where you'll be chased over various terrain that might prove to be be suited to the capabilities of one of the duo in particular. You playing as a human, however, will be forced to make the most of your quick wits and honed reactions.
BearShark is available for download now at a price of £1.79/€1.99.